Snow Defender® PC240 Snow Guard
$3.00
• UV Stable
• Polycarbonate Lexan 103-112
• Very Strong
• Mount with screws or adhesive
• Patented
• Made In USA
Bulk Qty Pricing:
100-499pcs. – S2.48/ea
500+pcs. – $2.20/ea
3871 in stock (can be backordered)
Bulk Quantity Pricing
Quantity

Price (ea)

1 - 99

$

3.00

100 - 499

$

2.70

500+

$

2.40
Description
Clear and virtually invisible, Levi's PC240 meets the builder's needs for a strong and reasonably priced snow guard.
Made of polycarbonate lexan, the PC240 holds up to the weather elements.
Patented exclusively by Levi's and made in the USA
• UV Stable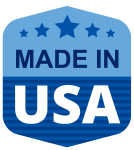 • Polycarbonate Lexan 103-112
• Very Strong
• Mount with screws or adhesive
• Patented
• Made In USA
Use SB-190 Adhesive along with our #10 Fastgrip Screw
Shop our Online Store
Flat rate shipping & quick turnaround on Hand Tools, Roofing Panels, Pipe Boot Flashings, Fasteners, and more!