Metal Roofing Panels
Exposed Fastener Panels
Exposed fastener metal roofing panels like Hardy Rib and Econo Rib are simpler to install than hidden fastener metal roofing panels.
Hardy Rib Exposed Fastener Panels

Current Lead Time: 1-3 business days*
The Most Popular Metal Roofing Panel!
The Hardy Rib Premium Panel is an exposed fastener panel and is made from #1 premium 29 gauge steel, and the cost is same or even less than asphalt shingles. We stock (in coil form) 16 colors for the Hardy Rib Premium Panel.
This panel has a 40-yr. paint and lifetime steel warranty.
Econo Rib Exposed Fastener Panels

Current Lead Time: 1-3 business days*
Our Most Economical Metal Roofing Panel.
The EconoRib Panel is an exposed fastener economy panel, making it very affordable as a roofing, siding, or interior liner option for your barn or garage. We stock (in coil form) Galvalume®/Unpainted and Bright White for the EconoRib Panel.
Hidden Fastener Panels
Hidden fastener metal roofing panels have a "cleaner look," but do require additional finishing skills and take longer to install.
We can also manufacture Aluminum Standing Seam roofing panels. Call for details.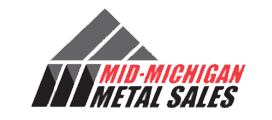 Call (800) 615-8416 for all your Metal Roofing Needs.
Additional Metal Roofing Panel Profiles
The profiles below are made by other metal panel manufacturing companies and have an average lead time of 1-3 weeks depending on the particular profile.
PBR/R Panel (Commercial)

PBR/R panel is a low-profile roofing and wall panel that can be applied over open framing or solid substrate.
Lead time 3-10 days
1 1/4 Galvanized CORRUGATED
In-Stock at Our Burton Location
Interior Grade
32 Gauge | Length 10′

The 1 ¼ Corrugated metal panel is the preferred option for professionals with its traditional metal roof appeal.
*Lead times are subject to change at any time and are not guaranteed.
Minimum order requirements may apply.
Lead time does not include delivery to job site.
Shop our Online Store
Flat rate shipping & quick turnaround on Hand Tools, Roofing Panels, Pipe Boot Flashings, Fasteners, and more!