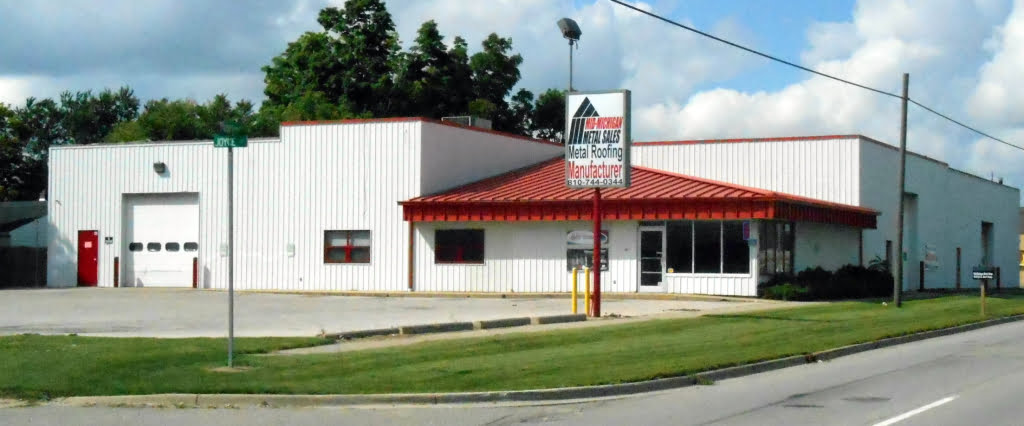 About Mid Michigan Metal Sales
Mid Michigan Metal Sales is the areas leading privately-owned metal roofing manufacturer and supplier. We are open to the public and offer over a dozen different profiles to complete your metal siding, roofing, soffit, or gutter applications. Our sales staff can help you with creating your material lists and distinguishing the different types of products and price points for the project you are looking at completing. We are located in central Michigan near Flint which allows us to serve a large majority of the lower peninsula of Michigan with steel roofing and siding. We are the area's leading privately owned manufacturer and wholesaler of lifetime exterior metal products.
Making the Hardy Rib Premium Steel Roofing Panel for the Masses!
Between our two manufacturing locations, one in Burton, MI (shown above) and one in Grand Blanc, MI, we have over 50,000 sq. ft. of factory floor, which allows us to manufacture the HardyRib panel, EconoRib panel, three Hardy Standing Seam profiles, Hardy Flush Wall, Hardy Board and Batten, Hardy V Groove Soffit, 5″/6″ K-style steel gutter systems, including steel gutter coil, and much more. We are also a distributor for MetStar steel shingles, Roser stone coated steel shingles, Unified Steel stone coated steel shingles, Edco painted steel shingles & siding, ST Fastening Systems, Levi's Building Components, E-Z Gutter Guards, Snap-Z, Malco Products, MidWest Snips, and many more. With lead times averaging 24 hours on our HardyRib and EconoRib products, you can buy today and install as soon as tomorrow.* Our goal is to help you complete your next roof and make it the last roof you'll ever need. We strive on offering products at wholesale prices, extremely short lead times, and excellent quality. We make metal roofing for the masses!
*24 hour turnaround time is based on product availability, product(s) ordered, and items being picked up from our Burton, MI Location
Corporate Location
Sales Office/Showroom & Manufacturing Facility
Grand Blanc Fulfillment Warehouse & Manufacturing Facility
This is not a showroom/sales location. All orders must be placed through our Burton, MI location.
Call (800) 615-8416 for all your Metal Roofing Needs!