Snow Defender 85RF- Powder Coated Snow Guard
$12.75
S-5 Clamp Sold Separately
• 12 colors in stock
• Type 304 Stainless Steel
• Does Not Penetrate Metal
• Powder Coated or Mill Finish
• No Caulk Needed
• Patented
• Fits Multiple Standing Seam Profiles
• Aligns Squarely on Roof
A versatile snow guard that fits vertical folded seam profiles using
S-5!™, U, S, N, V, clamps (sold separately)
Purchase the S-5-N Clamp- Click here
Purchase S-5-S Clamp- Click here
Mill Finish is not painted and is only bare stainless steel. 
Backordered Guards will ship from the factory within 2-14 business days in most cases.
Bulk Qty Pricing:
100-199 Save 5% off Reg. Price
200-499 Save 10% off Reg. Price
500+ Save 15% off Reg. Price
Bulk Quantity Pricing
Quantity

Discount (%)

Price (ea)

1 - 99

—

$

12.75

100 - 199

5 %

$

12.11

200 - 499

10 %

$

11.48

500+

15 %

$

10.84
Description
If you have ever tried to install a standing seam snow guard and become frustrated with alignment, this product will solve the problem. Designed to be part of a two-part installation system with any of the most popular S-5!® clamps, Levi's 85RF Snow Defender aligns correctly on the seam connection every time. The 85RF is designed to combine the versatility of the S-5!® clamp systems with the beauty and durability of the Snow Defender™ series. It adapts quickly to the clamps using one bolt that is easily accessed from the top and aligns squarely every time.
Single Seam Snow Guard for Standing Seam Roofing
A versatile snow guard that fits vertical folded seam profiles for
S-5!™, U, S, N, V, clamps (sold separately). It's made of stainless steel in the USA, available in 30 plus color finishes, and the 85RF features Levi's 15 year warranty.
• Type 304 Stainless Steel
• Does Not Penetrate Metal
• Powder Coated or Mill Finish
• No Caulk Needed
• Patented
• Fits Multiple Standing Seam Profiles
• Aligns Squarely on Roof
Use Snowdefender's free calculator to determine how many snow guards are needed for your project. Click Here.
Important notice regarding the colors shown below. 
Colors in pictures may vary based on the actual color of the product due to many limitations including computer screens and scanning equipment. The color names are generic color names and are not meant to match a specific steel panel manufacturer's color. If you are looking to match a guard to a specific color we highly recommend purchasing one guard and seeing if it will work for you. If you decide to proceed with an order of say 50+ guards, then color does not match to your liking and you decide to return an order of 50+ guards the typical shipping cost for you would run $40+ to ship them back to us. Hence why we highly recommend purchasing one guard at first to determine if the color will work for your application.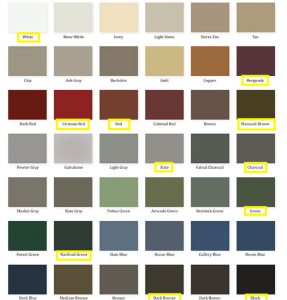 Shop our Online Store
Flat rate shipping & quick turnaround on Hand Tools, Roofing Panels, Pipe Boot Flashings, Fasteners, and more!