Home »
Have questions about steel roofing?
We have the Answers!
[masterslider id="18″]
The video below shows buildings still around today with metal roofs over 2,000 years old. Along with a snapshot of the history of metal roofing to the present time.
Q: Why metal roofing?
A: First of all, they are beautiful and will make your house the talk of the neighborhood. The following is from the Metal Roofing Alliance, "Used on buildings as diverse as multi-story apartment complexes to your neighborhood three-bedroom rancher, metal roofs provide energy savings, beauty, and protection for your home that can last a lifetime. Residential metal roofs are available in a wide variety of designs to complement any style home. Offered in a rainbow of colors, your metal roof can be a traditional vertical seam profile, or be manufactured to resemble wood shake, slate, shingles or clay tiles.
And, by choosing a metal roof, you'll save money and do your part for the environment. Conventional roofing products, including asphalt shingles, contribute an estimated 20 billion pounds of waste to U.S. landfills annually, whereas metal roofs can often be installed over an existing roof, eliminating the cost and eco-impact of tear-off and disposal.
Many residential metal roofs now utilize reflective pigment technology, which results in overall home energy efficiency, and lower utility bills. In addition, all metal roofs are made from 30-60% recycled material.
While your neighbors may re-roof their home many times, a high-quality metal roof will likely be the last roof you'll ever need. Resistant to cracking, shrinking and eroding, metal roofing systems can also withstand extreme weather conditions including heavy snow loads, hail storms, and wildfires.
With all these benefits, why would you choose any other type of roof?"
"Why Metal?" Metal Roofing Alliance, https://www.metalroofing.com/v2/content/metal-roofing/why-metal.cfm.
Q:  Metal vs. Asphalt Shingle Roofs?
A: For the metal part of the answer please refer to all the benefits outlined on this page. Still believe asphalt shingles are okay roofs? Read "THE TRUTH ABOUT ASPHALT SHINGLES" here.
Q: Are metal roofs loud?
A: This is a common misconception about metal roofs. The reason this is commonly spread is from someone being in an open rafter structure where you can see the bottom of the steel. Having zero insulation to reduce the noise means you will certainly hear it. With just a wood deck and no insulation, you would reduce the noise to almost zero. Next time you are in a bank or grocery store and its raining try to see if you can hear the rain. Unless it's down pouring, there will be little to no noise.
Q: Are metal roofs costly?
A: There are many choices and options when it comes to metal roofing in general. Cost is no different, with so many choices available it will depend on the style and type of metal used to determine the cost. The Hardy Rib and EconoRib steel roofing panels cost less than an average asphalt shingle. As for hidden fastener standing seam or metal shingle, you would be looking at about 1-1/2 to 2 times more depending on the type of metal, the thickness of metal, and the type of design in the panel.
Q: What is the life expectancy?
A: Great question, Metal roofs are known to last over 100 years with very little maintenance. Next time you take a trip to the country look for the old barns on the side of the road. Most of those barns were built in the late 1800's to early 1900's. The metal roofs on those structures are still performing today. Talk about getting your money's worth. Also, metal roofing does not have prorated warranties. Please visit the warranties page to view the warranties for the products we offer. Click here.
Q: Do metal roofs rust?
A: Our steel metal roofing systems have a metallic coating made of a combination of zinc and aluminum, called Galvalume®. This metallic coating prevents rust from forming and is bonded to the steel at the steel factory. The coils are then taken to a painting facility to be painted and create a great product that is not susceptible to rust for several decades. Not all steel is created equal, the picture below shows the layers of protection our steel roofing has, make sure you are receiving quotes on quality steel. Learn more about the types of steel here.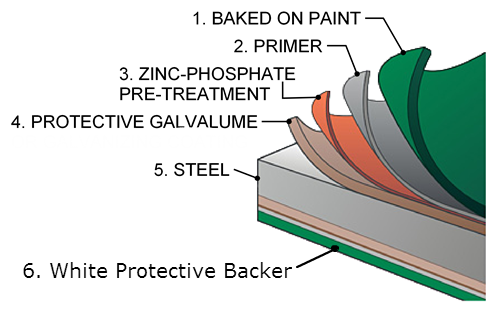 Q: Do metal roofs attract lighting?
A: Metal roofs do not increase the chance of lighting strikes. Although just like other roofing materials, including asphalt shingles, your house could be stuck by lighting and in that case, your metal roof will disperse the energy throughout the outside of the house and into the ground. It will not catch fire like other roofing materials. So your new metal roof will actually protect your house during a lightning strike.
Q: Are metal roofs Energy Efficient? 
A: Absolutely, most metal roofing products are energy efficient. Look for the energy star logo on the product detail page for the highest energy efficient products or ask your sales person. A side note is that light colors will be more energy efficient than darker colors. Due to the fact that metal roofs reflect the sun's rays, you will see savings up to 30% on your heating and cooling bills.

Q: Do you save on homeowners insurance?
A: Most insurance companies do offer discounts for having a metal roof on your home or business. With metal roofs being able to withstand high winds, hail, and fire they truly do protect your home or business from the elements and the insurance company knows that.
Take a look at the video below and see how steel roofs hold up to wild fires.
Q: Are metal roofs a good choice for high wind areas?
A: Absolutely, remember the old barns in the life expectancy question? Those old barns are in the middle of the field in most cases with no trees to protect the roofs from high winds. Those old metal roofs have lasted decades with pounding winds and so will a new metal roof. When installed properly a new metal roof can withstand winds up to 120+ m.p.h. equivalent to an F2 Tornado.
Q: Do you have metal roofing installation guides for your products?
A: We sure do, most of the products we offer have installation guides. Please click here to view the installation guides page.
Q: Can you provide an estimated list of materials for my project?
A: Yes we can. We would need all the measurements of the roof and a drawing of the roof. With that information we can create an estimated list of materials to complete your project, the list is not guaranteed to complete the project but in most cases, you will have enough material to complete your project. Alternatively and a faster way to receive a quote, you can create the list using our step by step guide found here.
Q: Does a metal roof increase the value of your home?
A: It most definitely does, as reported by Sal Alfano of Remodeling Magazine, homes renovated with standing-seam metal roofing show a rate of 85.9% cost recouped in the national average with up to 95.5% for homes in the Eastern states, a full 1 and 6% resale value gain over homes roofed with asphalt. And with all the added safety and longevity associated with quality metal roofing matching installation job costs that reach only one half of that of cosmetic room remodeling averages or even one eighth of that of a master suite addition, you hardly deny the sense in upgrading.
Q: Do you cut the angles on the panels for valleys or hip roofs?
A: No, all of the panels that we roll form and distribute for are cut straight, no angles.
Q: Do the HardyRib or EconoRib panels come with the holes pre-drilled for the screws? 
A: No, the HardyRib and EconoRib panels do not have the holes pre-drilled in them for the screws.
Q: What is the difference between Square Foot (Sq.Ft.) and Lineal Foot?
A: A Square foot (Sq.Ft.) is a square that measures 1ftx1ft. Whereas a lineal foot is the width of the panel by 1ft high. Example: The HardyRib panel is made 3ft wide so 1 lineal foot of the HardyRib panel would cover 3 square foot of area. We use square foot in our pricing so that you can easily compare and calculate the price for your roof, but most of our products are sold by the lineal foot.
Q: Should I use treated wood for my purlins/furring strips when going over existing shingles?
A: The short answer is NO. The reasoning is behind the chemicals used in treated lumber. Our paint and steel, just like every other steel panel manufacturer, reacts with the chemicals found it treated lumber causing premature paint and in some cases steel failure which would not be covered under warranty. With that said, if you are building a pole barn you can use treated posts, but the lumber going horizontal connecting the posts should not be treated lumber. Just remember treated lumber can be close to the panel just not in contact with the panel.
Shop our Online Store
Flat rate shipping & quick turnaround on Hand Tools, Roofing Panels, Pipe Boot Flashings, Fasteners, and more!