Edco Arrowline Permanent Metal Shake
Home » Metal Roofing Shingles » Edco Permanent Metal Roofing and Siding »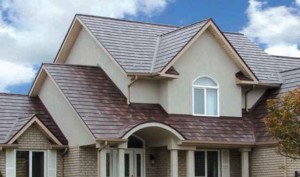 Get the classic look of traditional cedar shake with permanent steel shake roofing. ArrowLine Enhanced Shake roofing is available in six blended, multi-tone colors that have a natural, weathered look.
DESIGN AND DURABILITY
From light commercial to residential applications, EDCO ArrowLine® Shake roofing is the next wave in roofing. ArrowLine roofing will not warp, split, peel, or crack and defies winds up to 160 mph. It can easily withstand frigid northern winters as well as the blistering southern sun. Coated with a deluxe TRINAR® finish to maximize color retention, ArrowLine Shake metal shingles are available in 11 solid ENERGY STAR® colors and 6 blended dark rich colors. The unique double embossing pattern adds panel strength strong enough to be walked on. Add matching trim for an aesthetic statement like none other.
[masterslider id="10″]
Shop our Online Store
Flat rate shipping & quick turnaround on Hand Tools, Roofing Panels, Pipe Boot Flashings, Fasteners, and more!