Hardy Loc Standing Seam Metal Roofing Panels
Made standard with 26 gauge AZ 50 Steel with Kynar Paint
Can be made in lengths 2′-50′(sizes over 25′ have additional crating charges and can only be made in 24 or 22 gauge steel.)
Limited Lifetime Paint & Steel Warranty
Available in a total of 60 colors. (See color chart/matrix)
Also available in 24 or 22 gauge steel w/Kynar 500 Paint
UL 790 Fire Resistance Class A
UL 2218A Impact Resistance Class 4
Minor ribs decrease oil canning and telegraphing
Mechanically Seamed System (Must use a manual or mechanical seaming tool to secure panels together.)
Attached with clip
Industrial and Commercial Application
Made for performance not for looks.
Used on roofs with pitches of 0:12 or above
Current Lead time 2-4 weeks.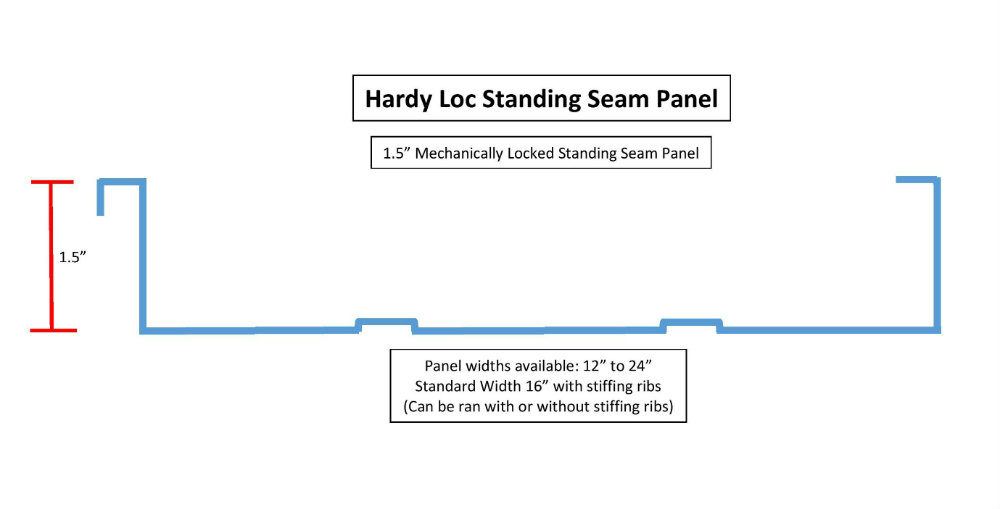 Not all Steel Roofing is Created Equal. Make an Educated decision. Learn more Here.
FOR COMMERCIAL AND INDUSTRIAL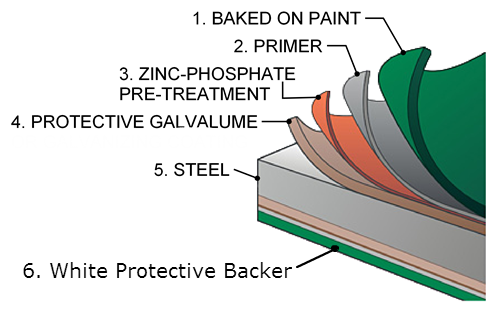 Our Hardy Loc standing Seam Panel is a mechanically seamed panel. Unlike the Hardy Snap and Hardy Clip standing seam panels our 1-1/2″ mechanical lock standing seam panel is attached with clips and seamed with a power or manual seaming tool that makes a single fold or a double fold. This makes the Hardy Loc panel system able to be installed on roofs with extremely low pitches, 1/2:12 with a single seaming machine or 0:12 with a double seaming machine. Please be aware this panel is not made to be a "beauty" panel it is designed to perform on low or flat roofs and will give an industrial look to houses or commercial buildings.
The Hardy Loc Standing Seam Panel has eight layers of coatings to complete the paint system. It also features an exclusive limited lifetime paint & steel warranty. With the best warranty and paint coatings available in the industry, you will know your home will be protected from the elements for hundreds of years.
All of our Standing Seam Panels come with an exclusive Limited Lifetime Non-Prorated Paint & Steel Warranty. Sample warranty available upon request.
26 gauge Standard Color Chart (PDF)
Ultra Clad Color Chart (Special Order 26ga, 24ga, & 22ga colors) (PDF)
View the available trims (PDF)
Installation Guide (PDF)
Shop our Online Store
Flat rate shipping & quick turnaround on Hand Tools, Roofing Panels, Pipe Boot Flashings, Fasteners, and more!